03.09.2022
KoMet organizes international Symposium on Metropolitan Innovation Ecosystems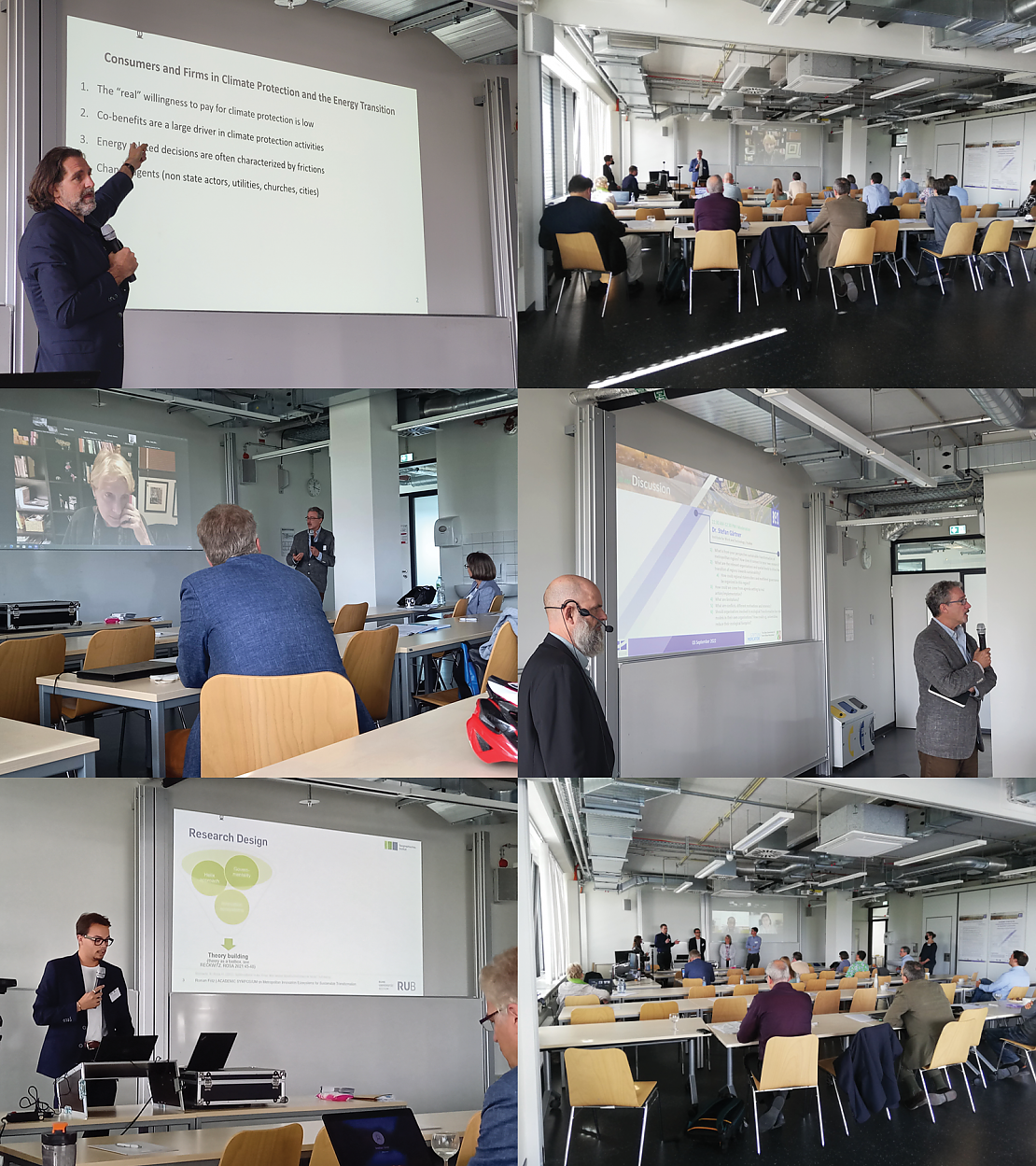 As part of the symposium, KoMet invited the conference participants of the Metropolitan Innovation Summit Ruhr 2022 as well as the interested public to the Ruhr-Universität Bochum (RUB) on 3 September 2022 to discuss metropolitan innovation ecosystems in the context of sustainability transformation in depth from the perspective of (transformative) research.
The day began with a welcome and introduction by Uta Hohn (KoMet speaker/WG Urban and Metropolitan Studies, RUB), Martin Paul (Rector of Ruhr-Universität Bochum) and Matthias Kiese (KoMet Research Field Knowledge Metropolises/Dean of the Faculty of Geosciences/WG Urban and Regional Economics). In their speeches, the professors emphasised the relevance of mutual learning and interregional knowledge exchange between scientists from universities and research institutes as well as cooperation with practitioners for the success of a sustainability transformation from the respective innovation ecosystems.
Maryann Feldman (Arizona State University, Phoenix) kicked off the symposium. In her keynote address "Innovation for Urban Resilience in the Desert", she focused on the innovation ecosystem of the desert region of Phoenix/Arizona in the United States and the location-specific challenges and restraints of a sustainable transformation.
Following on from this, Andreas Löschel (Environmental/Resource Economics and Sustainability, RUB), Ray Gastil (Carnegie Mellon University, Pittsburgh, Remaking Cities Institute) and the plenary, moderated by Stefan Gärtner (Institute for Work and Technology), discussed questions of governance and leadership in metropolitan sustainability transformations, taking into account different scale levels of action. Afterwards, young researchers from the RUB and the Japanese University of Tsukuba presented their doctoral projects in five-minute pitches, moderated by Judith Wiemann (WG Urban and Regional Economics, RUB). The presentations – which had qualified in advance – were very diverse in terms of content and covered a wide range of the topic area of sustainable transformation of metropolises. The young researchers used the Academic Symposium as an opportunity to present their research projects to a larger audience and build international and interdisciplinary networks. Matthias Kiese then summarised the main findings of the Metropolitan Innovation Summit and the Academic Symposium and pointed out potentials for international comparative research. The Academic Symposium has now provided an initial impetus for this. In the aftermath, the participants will meet to explore possible joint research activities in the field of inter- and transdisciplinary metropolitan research.

The detailed documentation of the event can be found here.