KoMet Conference (KoMet-Tag)
The KoMet Conference (KoMet-Tag) is the annual exchange and meeting format since 2019 and one of the annual highlights among the events in the competence field metropolitan research (KoMet). The event is interdisciplinary and addressed to researchers, as various regional, national and international stakeholders and interested participants from economy, politics and civil society.
Each year, the event addresses a current topic of metropolitan research in the form of a large-scale conference. The researchers of KoMet provide insights into their research activities. Contributions from other national and international experts enhance the event's format. Panel discussions and interactive participation opportunities enable a vivid and varied discussion. The "KoMet-Tag" meeting format also serves as an annual meeting of all KoMet researchers. The meeting takes a retrospective look at the research activities of the participants and discusses future activities of the KoMet.
KoMet Conference 2020: Future Narratives for Metropolitan Regions
The 2020 Conference of the Competence Field Metropolitan Research (KoMet) was dedicated to past as well as present images of metropolitan futures: What do desirable futures for metropolitan regions look like? What has become of earlier visions about the future? And what does the concept of "narrative" actually imply? During the conference entitled "Future Narratives for Metropolitan Regions" held on December 14, 2020, academics and practitioners discussed ideas for the future of metropolitan spaces both in the Ruhr Region and internationally. The event supported by the Emschergenossenschaft and Stiftung Mercator. Approximately 180 participants took part in the virtual event.
KoMet-Conference 2019: Future of Mobility in the Ruhr Region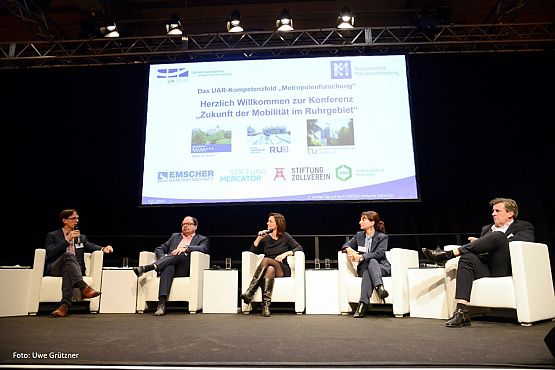 Reliable, environmentally friendly, efficient, healthy, smart - there are many expectations for the mobility of tomorrow. The measures and strategies required for the Ruhr region and how other metropolitan regions in Germany and abroad are dealing with similar challenges was the subject of discussion among experts from academia and practice at the first KoMet Conference in Essen at the Zollverein World Heritage Site on November 4, 2019. Visions, innovative approaches and feasible solutions to current challenges in the field of transport were presented by KoMet in cooperation with its partners Emschergenossenschaft, Stiftung Zollverein, Stiftung Mercator and Verkehrsverbund Rhein-Ruhr.
Impressions "KoMet-Tag" 2019
Photos KoMet-Tag 2019: Uwe Grützner